This weekend I went shopping In Park City and I picked up this awwwesome
shirt
at the Lids Outlet, I know its a Man's shirt but hey, we all have one right? So I'm not really a Red Wings fan AT ALL, but I've been in love with their apparel, and the reason being... I love Ferris Bueller's Day off!!! In the movie, Cameron Frye sports this awesome jersey and for what ever reason I can't get enough of it. Needless to say, I have more than one. So I was so excited this week when I saw this amazing "Living In" post from Design Sponge,
Living in: Ferris Bueller's Day Off
Defiantly check it out, the post was So Choice!
Oh don't worry, My little brother does it too... I don't know what it is with us Tekulve's, Our heart beats only for Cameron.
Little bro opening his mission call to Russia, Check out his
mish blog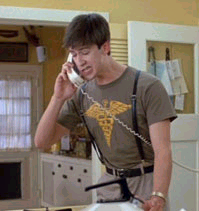 "I'll go, I'll go, I'll go, I'll go, I'll go, I'll go. What- I'LL GO."
Love him!